BACKGROUND
ShareItMobile is a turnkey, dual-platform (mobile app and website) private-label hosted social media solution that automates and streamlines the aggregation and presentation of user-submitted photos, videos and commentary.  
BENEFITS AND FEATURES
ShareItMobile gives users a way to contribute, browse, share and rate photos, videos and commentary from their smartphones and web browsers under a unique branded image. The web-based management console lets the customer streamline the publishing and presentation of that content. The solution allows a user group/community to:
Contribute - photos, videos, on-the-scene experiences from their smartphones and website.
Browse - in an enjoyable way to search and filter volumes of user generated content
Reviews - gives users immediate peer feedback to ID best user posts and encourage them to submit more content.
Reward - badging for your best contributors.
Assignments - issue call to action to recruit content by leveraging crowdsourcing to engage the users to capture late-breaking or topical photos and videos.
Sharing - giving many users a way to share content that they find interesting via text, email, and Facebook and twitter.
Manage - easily manage the user content with a configurable web-based rules engine.

Widgets - position user generated content anywhere on your existing site.  
USE
The application was rolled out in 2011 and is available for use on iTunes and the Android Marketplace. ShareItMobile is the ideal solution for organizations, such as media companies, tourism bureaus, brand marketers, membership organization, affinity clubs, etc.
LEARN MORE
For more information about ShareItMobile, please contact us or visit http://ShareItMobile.com/. ShareItMobile representatives can arrange for a full demo of the product, both the mobile app and web interface.
Members of the Coast Guard / Coast Guard Auxililary can use the platform at http://cgauxonsite.cgaux.com
If you appreciate the automobile in almost any fashion then you can use the platform and mobile apps at http://MyCarsAndCoffee.com
User Generated Content at it's best.
MOBILE APP
For more information please contact us or visit http://ShareItMobile.com/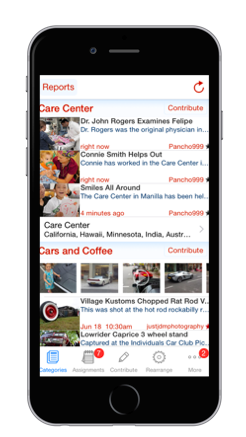 To see an example of a live ShareItMobile site, visit http://www.mycarsandcoffee.com/
TECHNOLOGIES
MS .NET Framework
XML
Web Services
MS SQL SERVER 2008
Windows Server 2008
VMware Cloud Hosting
Load Balancing
Streaming Content
MOBILE PLATFORMS
Google Android
Apple iPhone