MICROSOFT EXCHANGE OVERVIEW
Get the collaboration and messaging power that many large enterprises have with Microsoft Exchange. The Exchange platform has many useful features that will increase productivity, save time and enable your SMB to operate and communicate like a billion-dollar company. We specialize in providing managed/dedicated Exchange Server solutions to small and medium businesses. While we can sell you just a few Exchange mailboxes, there are many advantages to having a dedicated server - performance and security being two primary ones.
OUTLOOK ANYWHERE 
Allows your users to use the full Microsoft Outlook client from any internet connection without the hassle of VPNs (Virtual Private Networks).
SECURITY
With anti-spam filtering, SSL encryption and PKI support, Exchange allows your workforce to communicate and collaborate without fear of unauthorized persons accessing confidential information. Exchange runs on the Windows Server platform, which is a solid foundation that is well-maintained and constantly updated.

LEAN ON OUR EXPERTISE
Exchange is a sophisticated platform, and as such requires a high level of expertise to implement, manage and maintain. Solutrix specializes in providing dedicated Exchange servers for businesses. This service is designed for businesses that are large enough to require a dedicated Exchange server, and wish to outsource responsibility of providing the server to a 3rd-party.

GUARANTEED RELIABILITY
Concerned about reliability? We can provide a performance-based SLA for your Exchange solution that will allow you to focus on running your business instead of worrying about whether you made the right decision. Contact us today for further information.

MANAGE YOUR SCHEDULE MORE EASILY
Microsoft Exchange enables your employees to share calendars and scheduling information. When you schedule a meeting, Exchange allows you to see if the scheduled time conflicts with any existing appointments on an employee's schedule.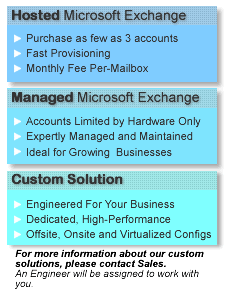 SHARE INFORMATION
Exchange opens up a world of possibilities when it comes to information sharing. Practically any folder in an employee's mailbox can be shared with their colleagues, from contacts to email drafts to calendar information. And with Public Folders, Exchange enables your company to organize and share information like never before.

PAPERLESS WORKFLOW
Businesses can achieve a true paperless workflow with Exchange Forms functionality. For example with a custom electronic requisition form, a requisition request could flow from the initiator, through several departments for approval and completion, and on to the entity that meets the request - without a single sheet of paper going to the printer.

ACCESS YOUR EXCHANGE MAILBOX ANYWHERE - WITHOUT A VPN
It used to be that Exchange was available only when connected to a company's internal network, over a VPN, or via a limited WebMail interface. With RPC over HTTPS technology, Exchange can be hosted and managed completely by a 3rd party, yet employees can access the full range of features whether they are in the office, traveling, or at home - with no need for a VPN or other more complex technologies. Additionally, employees do not need to do anything differently in each of these access scenarios - they simply open Outlook and start working.