Looking for business-oriented Virtual Private Server (VPS) hosting? Click Here
---
DEDICATED SERVER OVERVIEW
Solutrix has years of experience providing managed servers for our clients. We have developed processes for deploying managed servers efficiently and securely, so the customer has access to additional server capacity on demand.
You do not have to be concerned about the hardware used for your managed server. We always provide real enterprise-quality servers to our customers - not commodity hardware disguised as a server like some hosting companies use.
Our internal best practices specify HP Proliant Servers, unless otherwise requested by the customer. New/Used Dell and IBM servers are also available as an option.
Not sure if you need server management? Even if you choose to manage the server in-house, you can still take advantage of our management services through our  On-Demand IT service.
FLEXIBLE AND CUSTOMIZED SERVER MANAGEMENT
We can provide servers that are entirely managed, or if you prefer to handle certain aspects of server administration yourself - we can adjust the contract accordingly. If you want us to manage and maintain the server hardware and connectivity, while you take care of the software-level administration, that is no problem.

Part of our process of provisioning a managed server is capacity planning. While this means the server will meet current needs, we always keep the customer's future needs in mind as well. We work with each customer individually to get their applications on a server that fits right.

After your managed server has gone live, the time may come when the load outpaces available processing power. That is why we provide fast hardware upgrades around the clock with minimal downtime (and in some cases, no downtime at all).

No matter what type of managed server or servers you need, Solutrix has you covered.
Our managed servers have a variety of benefits and options, including:
• Automated Operating System patches and updates
• Available 3rd-party software patching (upon request)
• Trend Micro Server Anti-virus protection
• 24x7x365 monitoring
• Complete hardware maintenance is standard
• Admins are on call 24x7x365
• Scalability / Room for growth
• Many backup options available including iSCSI SAN and offsite backup
• Advanced Monitoring Portal - get server vital signs, run reports and track utilization from a web browser
• On-Demand I.T. services available around the clock
• Capacity planning and technical advice
Monitoring Portal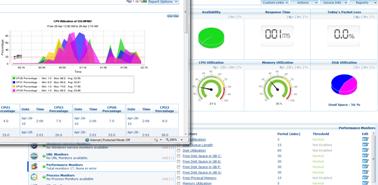 Features Matrix
 
Unmanaged VPS
Unmanaged / Dedicated Servers
Managed / Dedicated Servers
Managed VPS
Features
 
 
 
 
Datacenter Location
Norfolk, VA or Vienna, VA
Norfolk, VA or Vienna, VA
Norfolk, VA or Vienna, VA
Norfolk, VA or Vienna, VA
24x7x365 Support
Included
Included
Included
Included
Authorized Microsoft SPLA Licensing
Management Services
On-Demand
On-Demand
Yes
Yes
Totally Customizable
HP ProLiant hardware
Yes (Virtualized)
Yes
Yes
Yes (Virtualized)
Out of Band Management
-
Yes
Yes
-
Processors
Dual, Quad, Hexacore Intel
Dual, Quad, Hexacore Intel
Dual, Quad, Hexacore Intel
Dual, Quad, Hexacore Intel
Root (Administrative) Access
IP-KVM
Available
Available
Available
Available
Terminal Services / RDP Access
Load Balancing / Server Farm

Contact Us

Available

Available

Contact Us

Firewall type

FortiNet FortiGate Single/Active-Active/Active-Passive Clustering, MS Forefront TMG Clustered/Standalone, Software Firewall, or other Custom Solution

Storage Type
Shared 10K/15K+ RPM SCSI RAID Storage Arrays
10K/15K RPM SCSI
10K/15K RPM SCSI
Shared 10K/15K+ RPM SCSI RAID Storage Arrays
RAID Protection
Hardware RAID-1/5/0/10 with online spares
Hardware RAID-1/5/0/10 with online spares
Hardware RAID-1/5/0/10 with online spares
Hardware RAID-1/5/0/10 with online spares
Backups
Available: iSCSI SAN volume or Solutrix RDB client
Available: iSCSI SAN volume or Solutrix RDB client
Available: iSCSI SAN volume or Solutrix RDB client
Available: iSCSI SAN volume or Solutrix RDB client
Max Dedicated Bandwidth Available
Up to Multiple Gig-E
Up to Multiple Gig-E
Up to Multiple Gig-E
Up to Multiple Gig-E
Bandwidth Accounting Methods
Dedicated Circuit, GB/TB Transfer, Unmetered, 95th Percentile, Burstable
SQL Server 2005 / 2008  Database services
Available
Available
Available
Available
Management of Windows Updates and Core OS Software
None or On-Demand
None or On-Demand